Our most powerful duo for the high profile reporting professional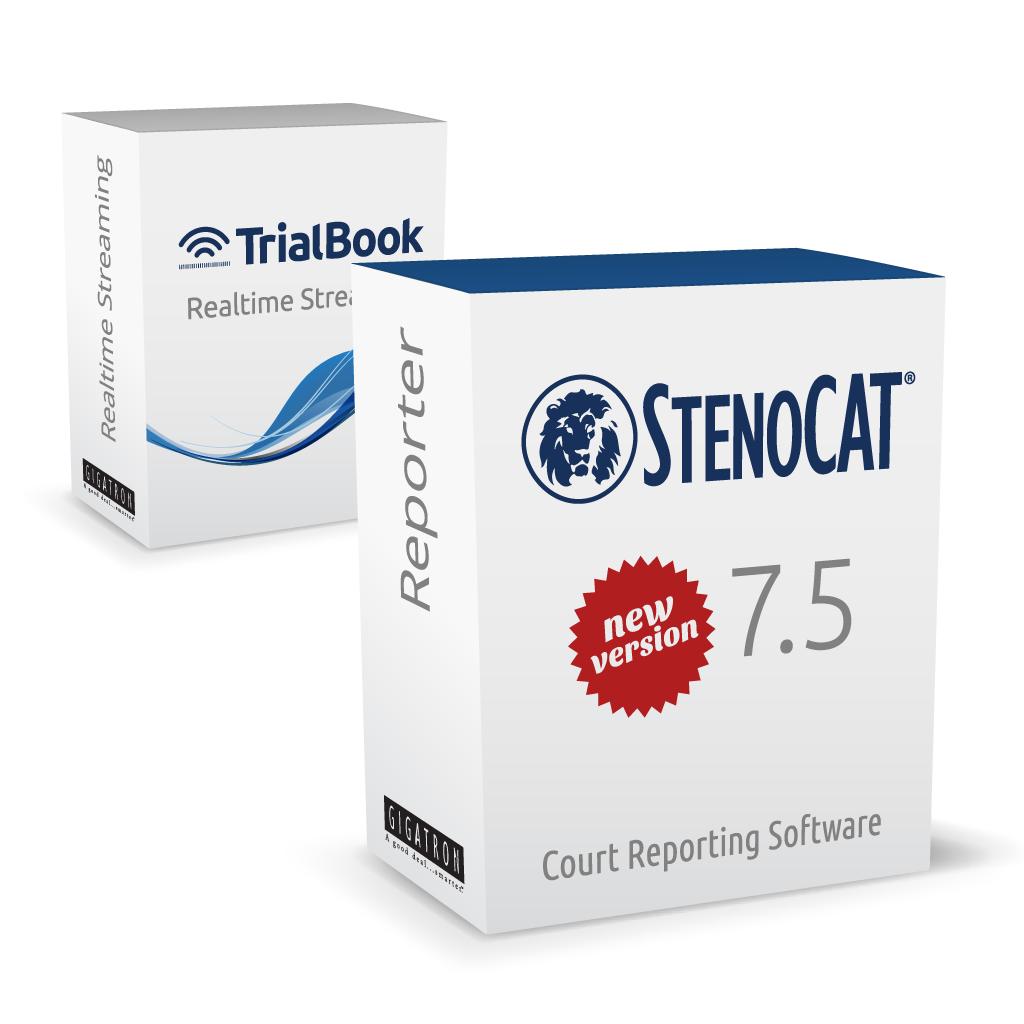 Need to impress your attorneys and remote viewers with accurate, instantly refreshed realtime feed? This powerful combo allows you to stream your realtime feed to an unlimited number of viewers on an unlimited number of browser-enabled devices. Forget about cables and complicated setups. Your viewers don't need to load any software on their devices. All you need is a reliable wi-fi network. Start with the basic file streaming (wi-fi) and add internet capability later if you need to stream remotely.
Reporters love this product because they can control the various individual security options for each viewer. Finished session record keeping shows a list of all participants with their relevant information.
Viewers love this because they can customize their view, annotate in various colors, highlight key words, save in PDF, and there is no program to maintain.
Need to have a second backup location on the cloud? No problem! StenoCAT lets you pick your own third party cloud provider and performs seamless backups as you are working. Never worry again about a computer failure – just get your files off the cloud after you get a new computer and you're up and running again!
As a StenoCAT power reporter, you'll enjoy premium access to the most professional and helpful customer care in the industry. An annual subscription includes free updates, toll free support, webinars, user message board, and training videos.
Plus, StenoCAT is very proud of the independent Users Group (the StenoCAT Users Network aka "SUN") who sponsors the best user conventions twice a year, all across the country. Joining this independent network gives you access to a powerful networking community who shares ideas, tips and tricks with fellow pros and veteran reporters. You'll have the opportunity to contribute your ideas to be incorporated into the development cycle of future software releases.
I've found this version to be extremely versatile and powerful on many complex and high-profile cases. It is programmable in almost infinite ways so it can be tailored to a reporter's individual writing style and preferences. In my networking with other reporters using different software, I have found none that offer the array of features or ease of use that mine does. I have found Gigatron as a company to be very responsive overall.
I. Abbey | California (a practicing reporter for 40 years)
Subscription
Reporter - 1 year
$724/yr
Realtime Streaming (wi-fi)
$299/yr
Startup Fee
$499
$1,522*
*Internet Streaming: +$300 Total: $1,822
Software Features
Internet Streaming
Reach any viewer, anywhere. Broadcast your realtime session to unlimited remote viewers over the Internet. This power reporter option is available for an additional annual fee.
Output to Mobile Devices
Broadcast your realtime session to unlimited viewers using tablets, smartphones, and other computers – all wirelessly.
Instant Refresh
Compatible with all industry recognized realtime browsers. Automatically refresh your viewer screens with your edit changes.
Secure PDF with Bookmarks
Deliver full text searchable PDF transcripts with bookmarks and digital signatures. Includes many options to secure the PDF and meet electronic filing requirements.
Meets requirements of NEW California Rules of Court
File Backup
Save As... to a second location. StenoCAT will automatically update both files – in the Jobs folder and your second file location.
CART Screen
Provide CART to your clients utilizing StenoCAT. If you have added power reporter options to your license, you can also use CART Screen to stream your feed to individual readers, locally or remotely.
Multiple Outputs
Broadcast your realtime session using a variety of methods – WiFi, Internet, serial cable, ethernet, or Bluetooth – all at the same time.
Smart BriefsTM
Steno briefs are suggested to you automatically based on your own steno theory, during realtime or in editing mode.
Smart KeysTM
Intuitive and superbly efficient. Edit transcripts with fewer keystrokes. Record macros to customize your keys, or use a predefined key set.
InSync® Audio
Edit transcripts faster and more accurately. Record audio in mp3 format from your computer microphone, or import jobs – with audio – from new generation writers.
Compatibility
StenoCAT is designed for Windows and works equally well with new writers – Impression, Mira, Fusion, Diamante, Passport, Stylus, and Gemini – as well as legacy writers.
Internet Search
Save time, save keystrokes, search faster – perform an Internet search directly from within the StenoCAT Editor.
Seating Chart
Track the name and location of speakers easily and efficiently with electronic name tags. Save the seating chart for future reference.
Larger Fonts
Give your eyes a rest with larger fonts in frequently used dialogs. Write and edit more comfortably using custom text zoom ratios.
Wireless Ready
Use wireless technology – from writer to computer & output from computer to viewer devices.
Address Book
Save and retrieve contact info to your StenoCAT address book. Auto-insert into the transcript, or save new contacts on the fly.
show more
System Recommendations
You're a professional having to compete and excel in a high-pressure work environment. Do yourself a favor and get a good computer system to have the best foundation. Practice good computer hygiene by keeping your computer up to date with the latest windows software updates. To have a good experience, we recommend having at least the following system setup:
Operating System
We prefer Windows 10, but Window 8.1 or Windows 7-SP1 are alright. Whichever operating system you are on, keep it updated with the latest patches from Microsoft®. It's the best protection you can buy against viruses, hacks, and other undesirables, and keeping current supports use of our latest features. If you are using an OS that Microsoft no longer supports, we won't be able to support it either.
Processor
The better processors are Intel® Core i3, i5, i7, or the AMD™ equivalent.
Storage
At least 128 GB on your workstation. A computer with an SSD (solid state drive) is highly recommended for optimal performance. Add an external hard drive for backups. Look into cloud storage solutions as well if you need mobility.
Memory / RAM
For a power reporter, we recommend a minimum of 8 GB.
USB Ports
We recommend a minimum of three available ports. One is required for your security key, one for your USB to Serial Adapter (if applicable), and one for an external microphone. If your computer has only one USB port, then you must add an optional USB Hub to supply the additional ports.
Floppy Drive
Optional – external or internal May be needed for reading notes from legacy writers.
Internet Access
An email account with a high-speed Internet connection is required to manage your software license, update your accounts, and send/receive audio files. Use only modern-day browsers such as Chrome, Firefox, Safari, Edge or IE 11 or higher. We alert you to stop using the old web browsers – they have weak security. If you do banking or shop online, use only bank approved browsers. This is important protection for your personal data and for any data subject to HIPAA.
Microphone
If your computer does not have a built-in microphone, you may need an external microphone to use InSync® during realtime.
Optional Extra Hardware/Services
USB flash drives for temporary storage or transferring of files.
USB hub converts one USB port into multiple USB ports.
External hard drives for data backup.
Cloud storage solutions.
External microphone.
FAQ
expand all
What is included with a StenoCAT Power Reporter subscription?
Subscription – Our unique subscription plan option offers you full-featured CAT software, unlimited technical support, updates, and online webinars for the subscription period. There is a one-time nonrefundable startup fee to start a new subscription. From that point on, you pay only the subscription rate (unless you let your subscription lapse). A subscription gives you the best security for keeping your software and skills up to date with the latest software features.
For a subscription rate of $1,023.00 annually, you have a single-user license of the full Reporter Version with basic (local) realtime streaming for a twelve month term. Internet (remote) streaming is another option that adds even more power to your toolkit; it can be added for an additional fee upgrade at any time. For more information on the Streaming options, visit our TrialBook page.
If you are a new StenoCAT reporter, this will include a free dictionary conversion, startup training, and a license security device. No long term contract is required.
When your subscription expires, your rights to use the license are also expired. A lapse fee may be required to reinstate a recently expired license.
Does StenoCAT provide an audio synchronization feature?
Yes, our feature is known as InSync and it is included in every Reporter version. Explore our Software Features for more information.
What kind of computer do I need to run StenoCAT?
Please see our System Recommendations section for detailed information.
Can I still use my steno dictionary?
Over the years we discovered that most translation issues can be traced back to a dictionary that simply needed some clean-up. So what we do is review your dictionary and provide conversion and clean up to optimize your experience on your new software.
Our technical support staff has plenty of experience helping our customers convert dictionaries over to the StenoCAT system, whether they are migrating from an older StenoCAT version or from another software maker.
If your dictionary needs additional outside help, we can also recommend resources that have worked well for other customers in the past.
Is StenoCAT compatible with my writer?
StenoCAT is compatible with all writers with a USB or serial port interface. All new writers and most older writers are compatible with StenoCAT.
Note: There are a few older writers that are not completely compatible with Windows 7-SP1, 8.1, or 10. Such writers are Baron, StenoWriter, Merit Writer, or other similar old writers that use non-DOS-formatted diskettes.
To verify whether your writer is compatible with the operating system you are planning to use, please contact our Sales Department for more information.
Why is the hardware security key needed?
What About Keys?
Hardware keys help us protect the distribution or use of software by any party other than the licensed registered user. Your software will work only when the hardware key is connected to a USB port on your computer. One benefit of having a hardware security device is that you can move it around to any number of computers without having to register the change.
There are also keyless security options which can provide even further protection. Some of our products use the hardware key and others use the keyless method.
Our developers are working to transition all products to keyless virtual protection in future releases.
How do I qualify for a second key? (This option was terminated in 2018)
If you had an active StenoCAT Reporter Subscription prior to 2018, you may have had the exclusive option to add a second key during your subscription renewal period, subject to license restrictions: (a) The two keys could not be used concurrently, and (b) The keys would be restricted to the reporter's own use and may not be provided to another party. The second key is only valid for the version family for which it was purchased (i.e. StenoCAT32 subscription). Any Secondary Key purchased after May 10, 2017 has a limited life of five years.
After paying the one-time fee to acquire a Secondary Key, a reporter will be required to pay an a renewal fee for each subsequent renewal period.
No Replacement Option: StenoCAT reserves the right to refuse Secondary Key renewals on any key over five years old for any reason, or where the license has lapsed or has not been maintained in active status. Secondary Keys are not subject to replacement except during the first year warranty period.
Limit: Option Expired 2018 - One StenoCAT Secondary Key per Reporter license.
How do I get support?
You can login to your StenoCAT account on our website, click on Help Center, and enter your question and callback information as a "Callback Request". This ticket is automatically linked to your license and immediately placed in the support callback queue. It is by far the fastest way to ensure you are next in line for a callback. Please be sure to write a brief description of your question or problem.
You can also call the toll-free support line 800-999-9199. Our support team answers calls live from 7 a.m. to 6 p.m. Pacific Standard Time between Monday and Friday. If a member is not available to take your call live, then you will have the opportunity to leave a voicemail. Please leave your license number, full name as registered on your license, a callback number, and a brief summary of the reason for your call. Voicemails are answered in the order they are received; however we prefer that you use our electronic callback request for more efficient response.
If you need a question answered over the weekend, visit the Help Center and begin by searching keywords for the question you have. You may also post on our Message Board where our customers exchange useful information with each other. The Message Board is monitored by our technical staff during normal working hours.
Every license with an active support contract also has access to a knowledge base to search the answers to the most common questions.
How do I renew my subscription?
Your software will remind you to renew your subscription up to 30 days in advance of the expiration date. To maintain continuous service and avoid any applicable reinstatement fees, we recommend you complete your renewal before the expiration date.
You may renew 24/7 by logging into your account on our website. Your customized page will present the various renewal interval options available for your license. When you renew your subscription by completing the online sale, your key may be immediately activated for the new expiration date. The new expiration date is calculated by adding the renewal term to the original expiration date. For instance, if you renew for one year, a total of 365 days will be added to your expiration date.
You may also renew by following the prompts through your software!
Lapsed subscriptions are subject to a reinstatement fee. Please call sales if you need further assistance. Lapsed licenses will be subject to new expiration dates at the time of reinstatement.
How do I replace a lost or stolen hardware key?
A new license will be required to continue using the licensed product. Please notify us immediately if you discover a loss or theft. Also contact your insurance company to see if your loss is covered. Your replacement cost will be the full cost of a new license, with any sales discounts that may be available at any given time.
If you do not wish to take the risk of this replacement cost, you may be able to purchase insurance to mitigate this loss.
How do I replace a defective hardware key?
Hardware keys come with a limited warranty that we extend to you. If one becomes defective within the first year we will replace it at no charge.
If your StenoCAT Reporter key is past the warranty period, there is a replacement fee of $85 (plus shipping).
You will also need to return the defective key before we will register the replacement key in your license. If you do not return the defective key, it will be considered to be a "key in use" and StenoCAT will invoice you for the full price of a second license, depending on the terms of your license and your specific profile. If your account remains in collection, your license will be ineligible for further support, renewal or updates.
Can I get an extra key for my Scopist to use?
Yes, but it is not a key on your license, as the reporter license is restricted to a single user for updates and support.
A separate license would be established for your scopist. Once identified as the licensed user, your scopist will be able to receive support and updates for the software.