Learn the ins and outs of what a reporter system can do for you before you start earning.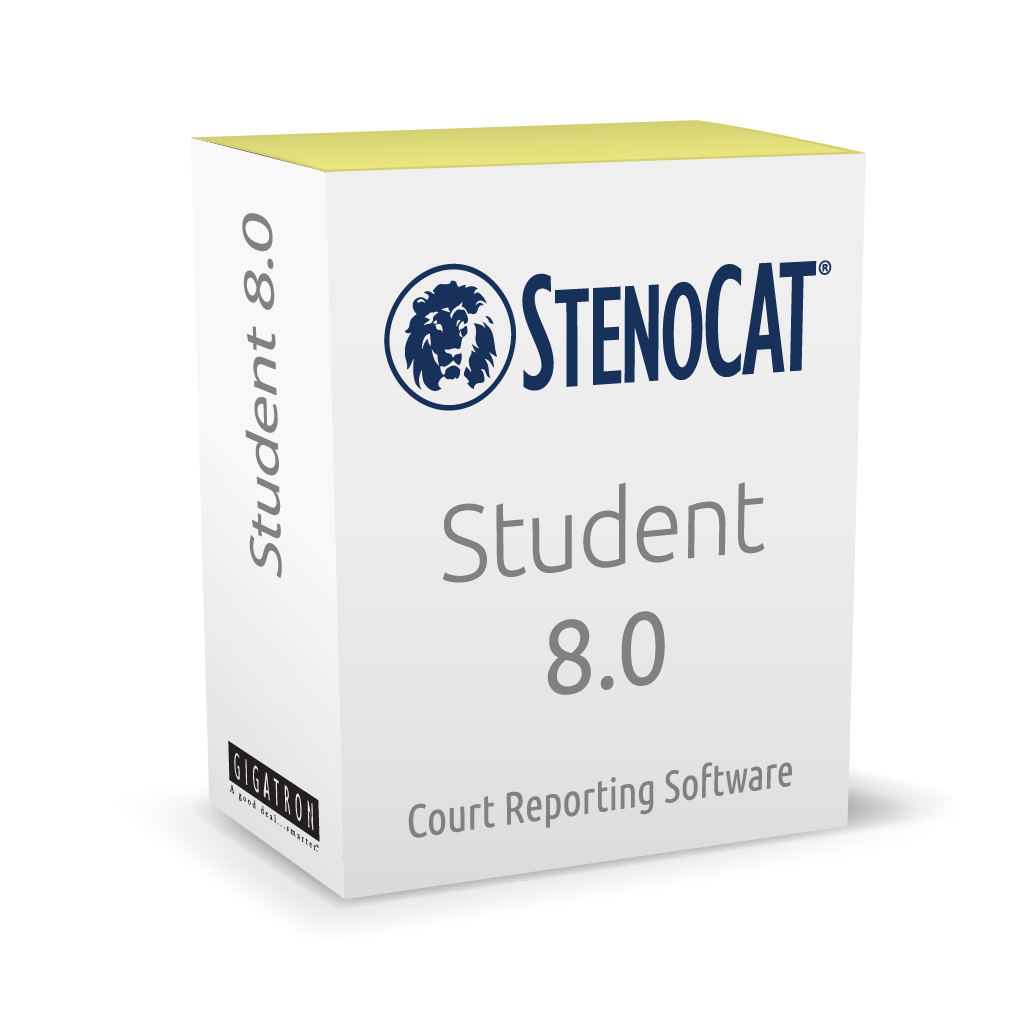 If it's time to build your dictionary, it's time to order the StenoCAT student version! Eligible students may purchase a student subscription to build their own dictionary in an RTF format.
Get out of the school lab and practice at home. Once you reach a speed of 180 WPM, it's time to take StenoCAT home for some real speed building practice! Our realtime speed display will tell you how many words per minute you are stroking. The student version is compatible with Realtime Coach and may be used for test preparation.
New graduates and New CSRs! We have an Easy Start program that eases you into a full reporter version of StenoCAT after your student period expires. No money down the first six months while you earn your first reporting salary! We make it easy on your wallet so you don't have to invest $4,000 upfront for your software. We understand the dilemma of having to pay off student loans and steno writer purchases, so our software will be the least of your worries.
The educational version is limited to education use only, so there are some feature limitations and restrictions. That means students cannot use it in a professional job, such as an actual depo, court case, or for CART venues, proofing, or scoping jobs.
Contact Sales to register for the StenoCAT Education Version now!
I love my StenoCAT! It's so easy to learn. I tried two other software companies. I was turned off by their support and found the software to be too complicated to learn.
Subscription
Student - 1 year
$99/yr
Startup Fee
$0
$99
Software Features
(some features are restricted or limited in the Education Version)
Instant Refresh
Compatible with all industry recognized realtime browsers. Automatically refresh your viewer screens with your edit changes.
File Backup
Save As... to a second location. StenoCAT will automatically update both files – in the Jobs folder and your second file location. Includes audio save.
Secured PDF
Generate PDF files with digital signatures. Includes many options to secure the transcript and meet electronic filing requirements.
Smart BriefsTM
Steno briefs are suggested to you automatically based on your own steno theory, during realtime or in editing mode.
Smart KeysTM
Intuitive and superbly efficient. Edit transcripts with fewer keystrokes. Record macros to customize your keys, or use a predefined key set. Option to view briefs in steno or phonetics.
InSync® Audio
Edit transcripts faster and more accurately. Record audio from your computer microphone, or import jobs – with audio – from new generation writers.
Compatibility
StenoCAT is designed for Windows and works equally well with new writers – Luminex, Impression, Mira, Fusion, Diamante, Passport, Stylus, and Gemini – as well as legacy writers.
Internet Search
Save time, save keystrokes, search faster – perform an Internet search directly from within the StenoCAT Editor.
Seating Chart
Track the name and location of speakers easily and efficiently with electronic name tags. Save the seating chart for future reference.
Larger Fonts
Give your eyes a rest with larger fonts in frequently used dialogs. Write and edit more comfortably using custom text zoom ratios.
Wireless Ready
Use wireless technology – from writer to computer & output from computer to viewer devices.
Address Book
Save and retrieve contact info to your StenoCAT address book. Auto-insert into the transcript, or save new contacts on the fly.
show more
System Recommendations
You may be practicing your steno skills for a couple of years on the Student version. As such, you may need a less powerful computer. But when you become a professional having to compete and excel in a high-pressure work environment, you will need a good system that has a fast response time. You'll need to put into place backup systems and plans for archiving jobs. You'll need regular system maintenance (such as installing Windows updates) to have good computer hygiene.
Please review the system recommendations for the full reporter version and keep this in mind as you continue your studies. Call Sales for further information.
Windows Operating System
We recommend you use Windows 10 or 11. Even if you have the latest Windows Operating System by Microsoft® , be sure to keep current by installing the latest patches from Microsoft®. It's the best protection you can buy against viruses, hacks, and other undesirables. Also, to use our latest features, you have to keep your computer up to date with the latest Microsoft patches. If you are using an OS that Microsoft no longer supports, we won't be able to support it either if there are problems. Virtualized Windows are not supported on StenoCAT32 Versions 8 and above.
Processor
The better processors are Intel® Core i3, i5, i7, or the AMD™ equivalent.
Storage
At least 128 GB on your workstation. If you are purchasing a new computer, be sure to buy the SSD (solid state drive) which offers improved performance. Add an external hard drive for backups. Look into cloud storage solutions as well if you need mobility.
Memory / RAM
We recommend a minimum of 8 GB.
USB Ports
We recommend a minimum of two available ports: One for your USB to Serial Adapter (if applicable), and one for an external microphone. If your computer has only one USB port, then you must add an optional USB Hub to supply the additional ports. Many computers today do not come equipped with USB ports. (StenoCAT runs on a virtual key system and therefore a USB port is not required to activate your license).
Internet Access
A high-speed internet connection is required to activate and re-confirm your keyless software license, update your accounts, and send/receive audio files. Use only modern-day browsers such as Chrome, Firefox, Safari, Edge or IE 11 or higher.
Optional Extras
USB flash drives for temporary storage or transferring of files.
USB hub converts one USB port into multiple USB ports.
External hard drives for data backup.
FAQ
expand all
How do I get the StenoCAT Student Version?
Students should check with their school to see if the school is registered with StenoCAT. If not registered, the school is welcome to contact Sales to set up the StenoCAT School program in their location.
Students wishing to practice at home may complete an application to subscribe to StenoCAT's Education version software for a limited time during their schooling. Please be prepared to provide proof of student registration for initial application and prior to each renewal.
The student version does not permit commercial use, i.e. Transcript production, CART, Scoping, Proofreading, etc. We do not sell the student version to use for income earning opportunities.
Please contact Sales to proceed.
How are my software & license kept secure?
Virtual Key Activation
Our secure server will issue your computer(s) a unique Virtual Key software ID to help us protect against the distribution or unauthorized use of software by any party other than the licensed registered user. Your software will work only when our server recognizes your computer as registered and your license as valid.
How does the Education Version compare to the Full Reporter Version?
Our students will find all necessary features to build a dictionary, practice realtime, take tests, and build speed and skill.
Several major features may have built in limitations and restrictions, such as page and session limits, to restrict commercial use. Students may not perform editing or reporting for hire with this version.
What kind of computer do I need to run StenoCAT?
Please see our System Recommendations section for detailed information. Virtualized Windows are not supported.
Can I use the software to build my dictionary?
Yes. In fact, we recommend it. We offer tools in the software to build your dictionary quickly and help you avoid the common mistakes that can lead to poor translations.
How do I get support?
You can login to your StenoCAT account, click on Help Center, and enter your question and callback information as a "Callback Request". This ticket is automatically linked to your license and placed in the support callback queue. Callbacks are scheduled for next available tech. We reserve the right to limit use of student support to non-peak business hours.
Is StenoCAT compatible with my writer?
StenoCAT is compatible with all writers with a USB or serial port connection. StenoCAT is constantly developing software to meet standards for operating systems and hardware compatibility.
Note: There are a few older writers that are not completely compatible with currently supported Microsoft Windows Operating Systems. Such writers are Baron, StenoWriter, Merit Writer, or other similar old writers that use non-DOS-formatted diskettes.
To verify whether your writer is compatible with the operating system you are planning to use, please contact our Sales Department for more information.
How do I renew my student subscription?
Student renewals require proof of student status and therefore cannot be renewed online. Contact your school administrator to provide proof of student status prior to requesting your renewal. Please allow five business days for processing.
Students may obtain the first year of a student subscription for $99.00. Thereafter, four subsequent renewals are offered to verified students for $149/year. If you have unique requirements beyond five years, please contact sales to discuss your options.
More Questions?
Contact Sales!